Hollywood star Hugh O'Brian and friend scootering about Beverley Hills for the day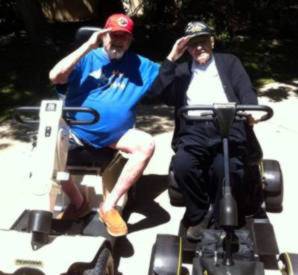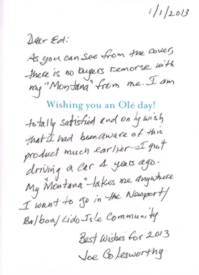 Montana Owner Joe at Lido Island sent us this card he made on his computer. Well done Joe.

1/1/13
Dear Ed
As you can see from the cover, there is no buyers remorse with my Montana from me. I am totally satisfied and only wish that I had been aware of this product much earlier. I quit driving my car 4 years ago. My Montana takes me anywhere I want to go in the Newport / Balboa / Lido Island Community.

Take a test drive and see why the Montana has a loyal and cult following among seasoned scooter users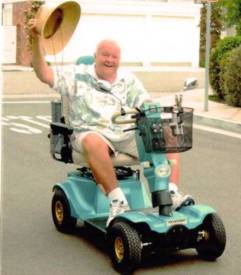 Esteem Deluxe Scooter. Serial No 0004 off the 1st production line.
This is a Generation 1 Lotus Blake Esteem scooter purchased new in 2002. Its had 2 owners in that time. Records show that it has done 3,500 miles since new. In 2009 the batteries were replaced and the scooter was moved on to its second owner. Recently we serviced the scooter and replaced speed and throttle pots, front wheel bearings and the motor brushes as precautionary service items.
This scooter is still a great scooter today in fabulous condition and will operate without issue for many years to come. We can supply all parts and servicing needs at very realistic prices for years to come.

We proudly stand behind the scooters we sell and will do so for a long time to come. Real quality with genuine support isn't expensive, its priceless.